Managing Animation Movie Projects
Do you ever wonder how animation studios work on their movies and collaborate to build award winning animated movies? Wonder no more. In this case study, we've talked with people at Hoorakhsh Studio to see how they use Taskulu to manage their projects.
Hoorakhsh Studio
Founded in 2005, Hoorakhsh Studio started by making experimental animation with special techniques and contents. After a few years, Hoorakhsh became one of the leading 2D CG animation studios in the Middle East. Their products have received awards from different international festivals such as Asifa (the International Animated Film Society), Annecy Film Festival and Glas Animation Festival. Their first feature film, The Last Fiction, was recently presented in the film market of Cannes Film Festival 2016.
Creating animated movies needs a great deal of creativity, imagination and innovation, but it also requires a lot of planning and organization. Being able to stick to strict deadlines is important in the animation industry. All animation studios need a solution to help them keep projects on schedule , and make the production process fast and flexible.
In animation production, whether it is a short TV commercial or a feature film, animators have to deal with a lot of data, images, textures, scenes, etc. This amount of data is obviously very hard to organize and manage. It is time-consuming, and sometimes frustrating for project managers to find and prioritize what needs to be done.
Animation projects normally have large teams and project managers in animation studios often struggle with keeping everyone on track and effective collaboration. What they need to handle all these is using the right tools.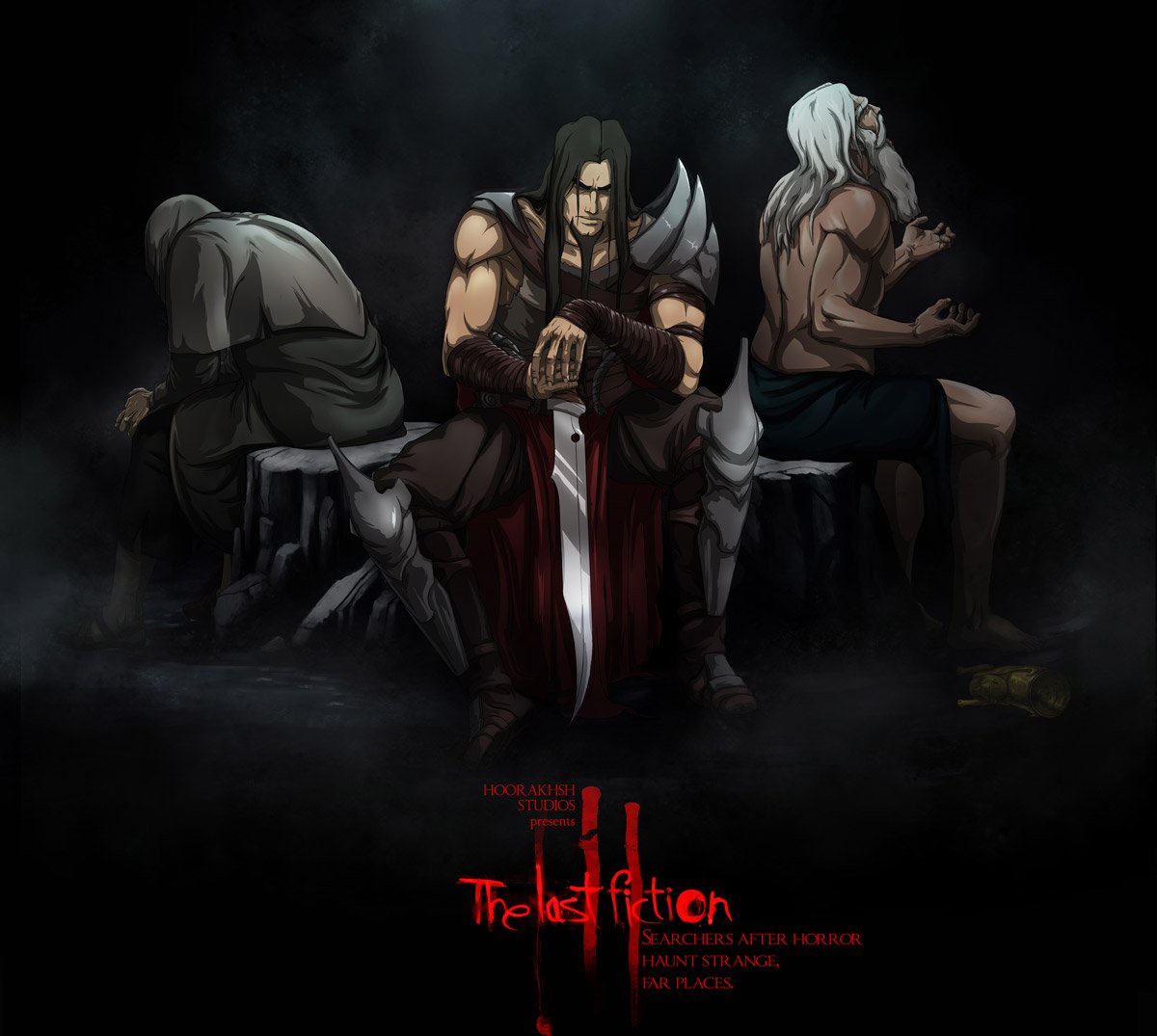 The Right Balance Between Simplicity and Flexibility
We all know that choosing the right project management platform for your team is hard, but when you are dealing with a team of creative individuals it is even harder. Creative people care about the design more than others do. When it comes to project management, which obviously sounds a bit boring to the creative minds, they rather work with visual tools, not text-based.
Most project management tools are either very simple and designed for managing small teams or they are too complex to work with. We needed a Kanban tool that is user friendly, flexible, visual and most importantly suitable for managing medium to large-sized teams. We found all these in Taskulu.
Managing Movie Production as a Project
Hoorakhsh creates a single project for each animated movie they work on – this helps with centralizing everything in one place and keeping track of the progress. The only exception is their largest project: The Last Fiction.
The whole production process for an animation feature film of this size is just too huge for a single project. Of the three sub-projects we have for The Last Fiction the Production sub-project alone has 80 members and around 3000 tasks.
They've created three different projects for this movie to manage each filmmaking stage separately: Pre-production, Production and Post production.
Production Steps
Background, Animate, Cleaning and Coloring, Lights and Shades, 2D Effect, VFX and 3D and Composite are some of the most common steps taken during the production of animated movies. Usually different teams work on different steps and the workflow for each of these steps is different. To keep tasks related to each step separate and give more flexibility to different teams, Hoorakhsh has created a Sheet for each of these steps.
Scenes and Visual Effects
As mentioned before, different production steps have different workflows, but that's not a problem. The good thing is that each team can structure their own Sheet on Taskulu the way they see fit.
For example, the composite team has a list for each scene of the movie, while the VFX team creates lists based on the work process. Some of the teams even create lists for each person in the team.
Cuts and Shots
For the composition team the smallest work unit in the project is a Cut (Shot).
Each Cut is created as a single task in the related scene (list) and assigned to someone in the team.
Color labels and tags are used as codes between different departments and supervisors. For example the blue label means the plan needs lip sync and the orange label means it needs color correction. By using these color codes, there is no need to explain what needs to be done.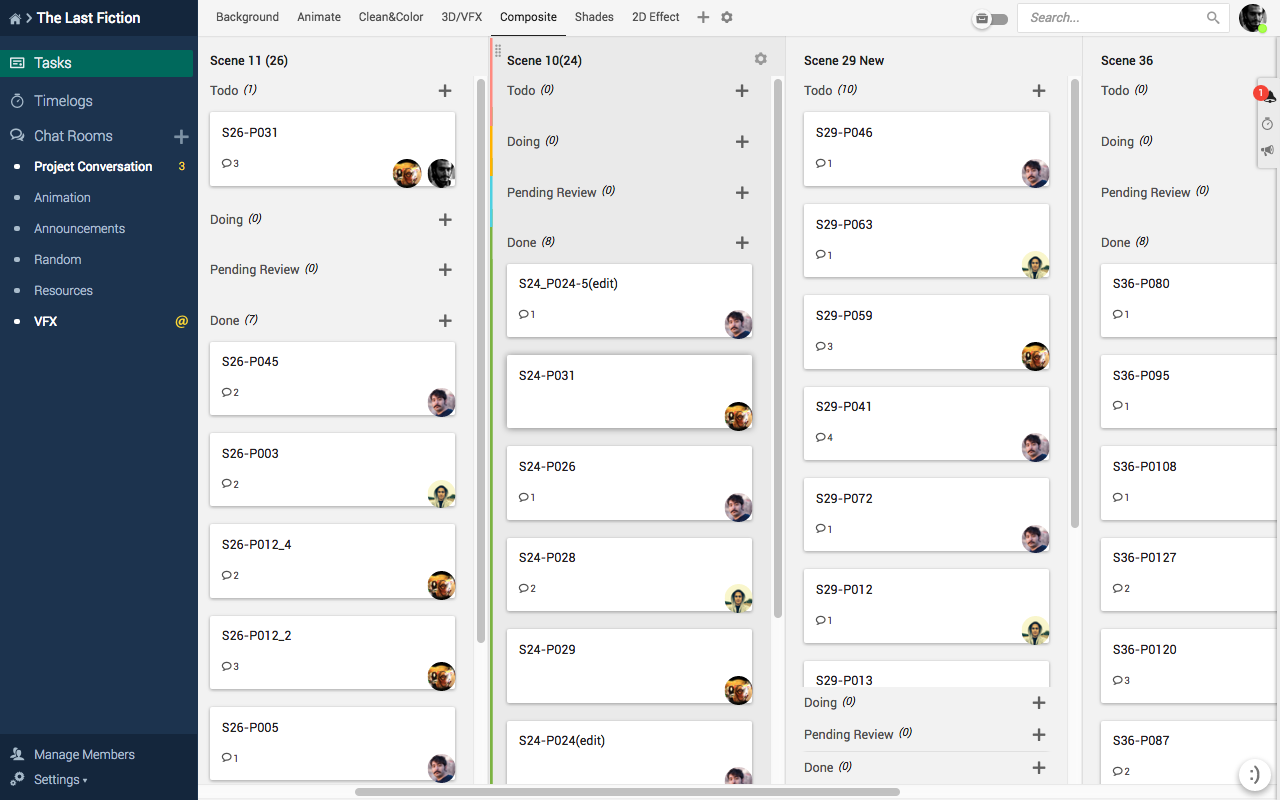 Zoom out, then zoom back in
Sprints are the secret to getting more done. While there's an overall plan in place for the whole movie that contains the deadlines for producing each and every sequence and scene, the team also has 30-day long sprints. At the beginning of every month the management team selects the tasks that need to be done during the next 30 days and sets the deadlines. This helps everyone have a short-term plan while keeping the big picture in mind.
Access Control
Access controls are not always for the sake of security or keeping things private. Sometimes, especially when the project's scale exceeds a certain level, it is necessary to implement access controls simply to prevent information overload. Having thousands of tasks and tens of members inside a single project, Hoorakhsh Studio uses Roles and Permissions for exactly that reason.
In The Last Fiction production project, they have five admins who have access to everything. The supervisors have full access to their own departments, and the rest of the team only have access to their own lists.
Building a collaborative workspace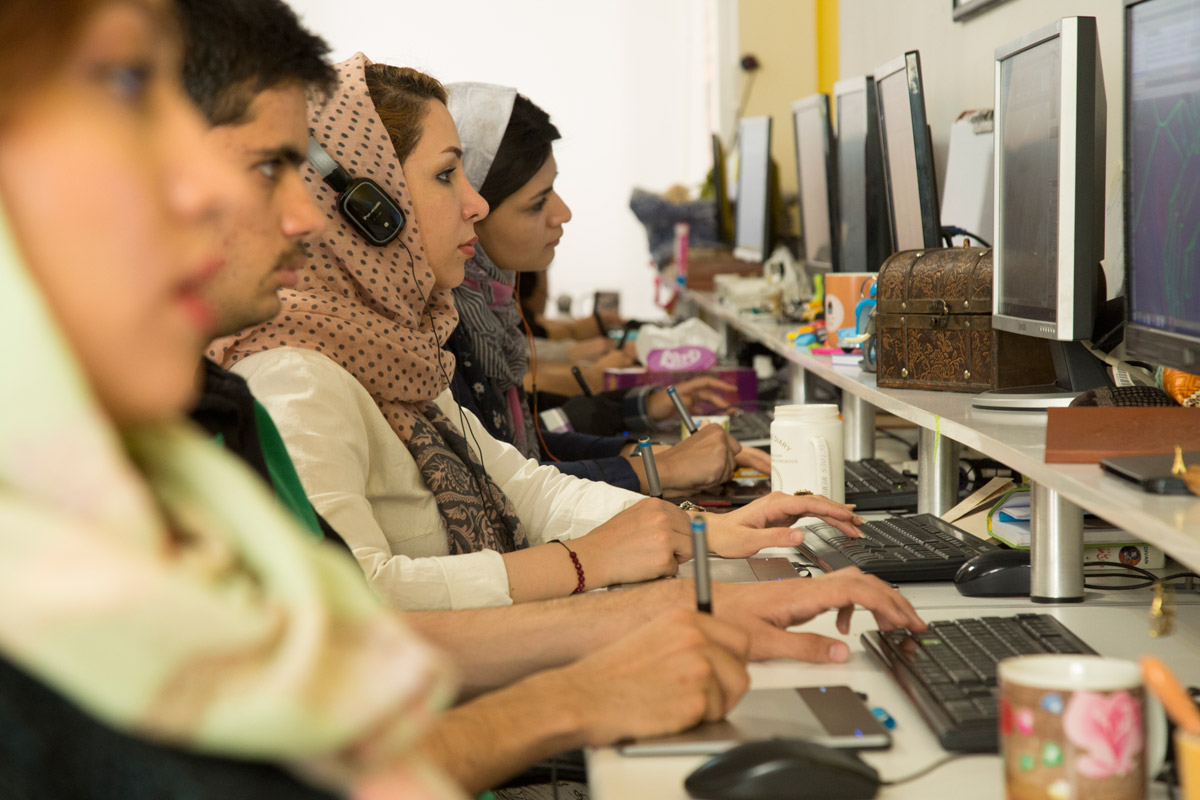 It's been almost ten years since Hoorakhsh started. With their growing team and increasing number of projects over the years, they've tested and used many project and task management tools.
Animators love art and fantasy. They are dealing with visual material all the time. If you want them to happily use a project management tool, you need to choose it right! For Hoorakhsh Studio, Taskulu was that right choice.
While Taskulu has helped supervisors and project managers to create a more flexible and streamlined workflow, it's also helped the individual team members collaborate much more easily and effectively.
Since we started using Taskulu, the amount of errors, mistakes and misunderstandings among the team members has noticeably decreased. We are making our first feature film with Taskulu, and we are confident that The Last Fiction is not going to be our last project in Taskulu.
Project managers can handle the workload easier, and it's easier for them to distribute tasks between team members who then communicate and work with each other to make award-winning movies much faster than ever before.