Nowadays managing work is very complicated. There is a need for a professional planner for each company. But now it's time for IT to come to the rescue. Taskulu is a collaborative project management software that helps you do your works in a simple and organized manner.
Here we want to talk about how Taskulu works and what you can expect.
Taskulu is based on organizations and projects.
Projects have a title, sheets, task lists, tasks, members, timelogs, conversations, and teams and accesses.
We are going to go through each of these to give you a high-level idea of how Taskulu work.
Organization

Organization is a group of projects with the same members. In order to use full features of organization you only have to pay once and save money. You can define as many projects as you want in an upgraded organization.

Projects
Projects are a high level of abstraction in Taskulu. You have to be a member or owner of a project to start using Taskulu, and that's why we have created a "Welcome Project" for every new member on Taskulu to help them get started.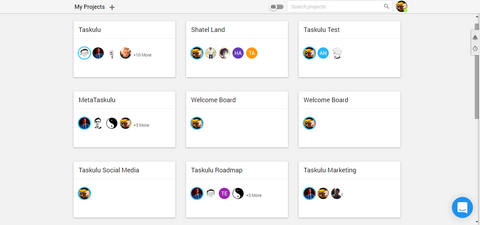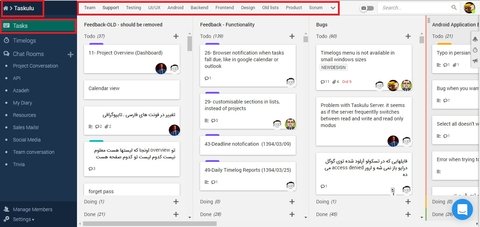 Sheets
Sheets are the tabs at the top of the tasks page in each project. Every project has at least one sheet called "Default" at the beginning. You can use sheets to keep different parts or sprints of your project separated.

Task Lists
Task Lists are containers for Tasks and have three sections: To do, Doing, and Done. You can also change and edit these sections.
You can create as many Task Lists as you need, and you they can be used to control what parts of the project each team member is able to view or edit, while keeping it clean and simple.
Tasks
Tasks are used to specify smallest work units. Each task has a description, comments section, attachments, and deadline. Tasks can be assigned to as many project members as needed.
Once a task gets assigned to a project member, they can log their working hours spent on that task with a single click.
Members
While you can create a project and work on it alone, there's usually a team working on projects and you can add them to your projects on Taskulu.
The project owner and admins could add new members to a project.
To add a new member, open "Manage Members" and add new members to your project.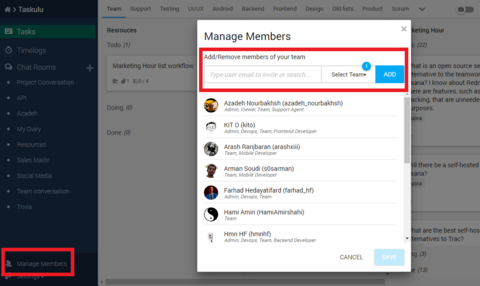 Communicating in an easy and clear way is a key for any successful project. We have got you covered! You can create as many conversations with any number of your project members involved.
Conversations are real-time and fully searchable، and you can mention members to get their attention. You can also benefit from the file sharing feature.
See more about it in Conversation Rooms.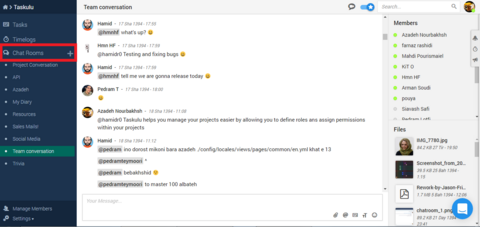 See more about it in Conversation Rooms.
Timelog
Timelogs help you track the amount of time you and your members spend on each task and for the whole project. You could activate "log time" when you start working on tasks you have been assigned to.
If you want more information about Timelogs, please visit the links below.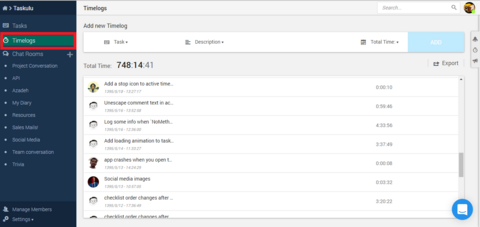 There are times that you need to prevent some team members from viewing or editing specific parts of your project. Sometimes the team and the project are too big, and it easily gets confusing if everyone can see and access everything.
This is where Taskulu's "Teams and Permissions" come in!
You can create as many teams as you want, and give them different permissions (like Edit project description, View tasks in "Marketing" task list for instance, or Edit tasks in "Backend development" task list), and assign different roles to your team members.
Please check Teams and Access for more information.
Analytics
Taskulu has provided a new opportunity for numerical and graphical analysis of your projects. This feature is called "Taskulu Analytics". As a project manager, you can update your team's performance management team using Taskulu's analytics and measure team productivity.